I won a prize at a fashion event!
Hey guys,
Yesterday I went to a well known Dutch warehouse called De Bijenkorf. You can compare them with Macy's and other big stores selling anything we could possibly need, and I won a prize!

De Bijenkorf is a huge warehouse, selling designer clothes, bags, accessories and home decoration. They have a really nice restaurant and my mom and I come there quite often. So often that my mom is a VIP membeR with a special credit card that collects points. As a VIP member, you get emails of events taking place. So we bought tickets.
When we got there we were in a small room which is normally for staff only. It was nicely decorated, flowers everywhere and wrapped boxes on tables, next to those boxes was another table filled with chocolate cake and something to drink. The event started at 9:30 in the morning so that chocolate cake was my breakfast.
They started of with a little presentation as to why we were there, what to expect and all the things they were going to talk about. The first presentation was about the new brand De Bijenkorf is selling, Coach. After that presentation more followed. Presentations about Kate Spade, Rebecca Minkoff, new sunglasses coming out and a new diamond counter that opened. Models were walking trough the room during the presentations. Wearing new Dior sunglasses and Kate Spade bags on their shoulders.
At the beginning of the event we all got a keychain with a number on it, and after the presentations they were going to giveaway a prize. They had a bowl with notes in it which had numbers on them. If your number was the same as the one in the bowl you won. Now, I am not one to win stuff. I am practically Donald Duck. But apparently not today. My mom and I were joking about winning when the woman hosting this event called my number. I was shook. I walked up to them and thanked them awkwardly.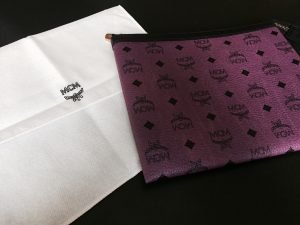 I won a plum coloured pouch from MCM, I had never heard of that brand before but I love it. With it came amazing holographic book with postcards in it. If you shine on it with a flashlight you are literally blinded, which is amazing. There were two perfume samples included.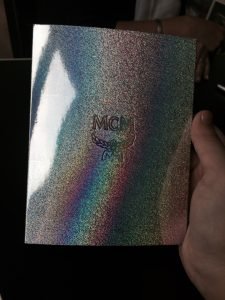 I want to give De Bijenkorf a big shout out for making my day. If you happen to go to Holland sometime, make sure to stop by this warehouse. You probably won't leave without buying something 🙂
All the love,
Lauren