Do you have the Right Wardrobe for Winter?
dear friends,
Winter is quickly approaching and it is time to reevaluate our closets and pull out those winter clothes for another season. As quickly as the fashion world changes, it is important to stay up to date on the newest trends that are facing the clothes that we wear in order to make sure that these are still in style.
So, what are the latest trends that we should focus on for our wardrobe changes this season? A number of items are hitting the runways in an attempt to keep us hip, warm and fashionable all at the same time. Have they found their way into your closets already or is it time for an overhaul? With the fantastic array of outerwear options that are making their rounds on the runway, it will be simple to look great as you bundle up this winter.
When you are pairing your fantastic outerwear with your winter wardrobe, there are a number of popular colors that can keep you looking great even after your winter coat has been neatly placed on the hook in your office.
Radiant Orchid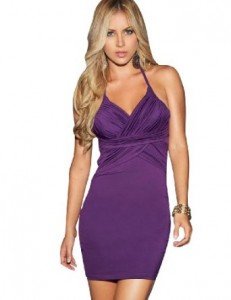 Espiral Halter Ruched Wrap Dress – $50.67
According to Pantone, a leading source when it comes to choosing colors to add to wardrobes, the most color of the year has been selected as radiant orchid. This is the leading color to carry over from fall to winter and will keep you looking your best long into the day.
Royal Blue
Crazy Girls Women's Sleeveless Belted Pleated Ponte Skater Dress – $19.99
Royal blue has also made the list and gives both men and women the option that they need to add some bright colors to their wardrobe.
Aluminum
August Silk Women's Three-Quarter Sleeve Silk-Blend Sweater – $29.98
If you are looking for a more classic look, aluminum will be a fantastic option as an addition to your wardrobe.
Aurora Red
Roxy Bristol Bay Women's Sweater – $73.09
For a bolder selection, choose aurora red as a staple for your closet this season. This is a great option to rely on because it is very versatile and you will be able to pair it nicely with many different color options.
Cypress
Geoffrey Beene Men's Fitted Sateen Dress Shirt – $35.99
Rounding out our top five colors for the season is cypress. Cypress is also a great option for both men and women because it can be dressed up as masculine or feminine.
Other leading colors that you can pair a fantastic coat with are misted yellow, sangria, cognac, mauve mist and bright cobalt. The colors that have been chosen for this season's fashion examples help create looks that are modern and stylish. By dressing up your wardrobe with these colors, you will be able to look your best inside or outside of the office.
Conclusion
Even if you aren't ready for the cold, you can be ready for a great season filled with fashionable options. Your friends will think you just stepped off of the runway if you combine a great outfit with a great coat. Be sure that you check out the options that you have in stores and compare them to the items that you have in your closet so that you can be certain to look your best during this winter season.