I just walked 50 miles/80 kilometers.
Hi everyone!
So right now, I am sitting in my bed eating chocolate and thinking about what my next blog post should be about. I thought to myself: 'What have you done lately that you have been proud of you did?'. And then I realized: ' Shit girl, you have just walked 80 kilometers. That is 50 miles btw. And before you all FREAK OUT and think I have lost my mind, let me just explain.
Back here in Holland, every year we have an enormous event where you walk 80 kilometers/50 miles. Which you can sign up for. You start walking on a Saturday night at 8 pm and you have to finish before 4 pm the next day. This means you in total have 20 hours. Every year around 3000 people participate and around 70% get to the finish line. The best thing is, is that around the whole walk people are partying and celebrating. There is music everywhere and at the side line people are cheering at you and saying you can do it! There is not really an historical story behind it why it all started or why it got so big. Everyone just sees it as an excuse to party hard and get super wasted. (;
Now, you have to understand that this is not just something you easily do. Walking 80km is really really hard. Not only physically but also mentally. You literally walk for 18 hours straight, you do not sleep the whole night and only have very few breaks where you can sit down and rest. Every 20km there is a big stop where you can sit down, eat and drink something, get a quick massage or let the first aid people take a look at your feet and blisters. Every 5km there is a small stop where you only can get something to eat and drink and go to the toilet.
You are probably wondering why I even thought of participating. Well let me tell you. I did not only do it because I love the whole atmosphere there is. Everyone is happy, dancing, eating, laughing, cheering. Everyone is nice to you and all the other walkers are supporting each other and getting each other trough it. I also did it because I like to walk and I like doing challenges, pushing myself out of my comfort zone and seeing how far I can go. I basically just like to do the impossible. Now this was not the first time I participated. Last year I did it too. Only then I trained like crazy for months and now I did not train at ALL. I was really curious if I would make it and basically everyone around me said that I would not, that it just was too hard with no training. And all I thought was: 'Watch me'.
Now the big question is: 'Did I make it?'. And I did!!! With a lot of pain, tears and blisters I finished on Sunday afternoon at 12pm which is 4 hours earlier than you actually have to finish! My whole family and all my friends were standing at the finishing line cheering at me and I was so super happy to see them. They bought flowers and a big chocolate medal. There was also a photographer which took a picture of me and I ended up in the news paper. How cool! Because I was one of the youngest participants.
I will shortly tell how it went. The first 40km ( 8 hours of walking ) went great. Everywhere people were partying and for the most part I did not feel my feet at all. I think the pain I felt on a scale of 1 to 10 is a 2/3. Which was really a surprise for me because of the fact that I did not train at all. After the 40km it quickly became harder and harder. At the 50km I had my first few blisters and my legs started to feel incredibly sour. But even though it almost was becoming light again there were still people partying and cheering you up and I still felt pretty good. Here my pain level was a 5/6 out of 10. But then the last 15km where just pure HELL. The burning sensation all through my legs was unreal and I could feel the blisters scouring against my shoes. It felt like my feet where on fire. But I did not want to give up, I had come this far. So I kept walking, one step at a time, just focussing on putting one foot in front of the other….
And when I finally saw that finish line I felt like I could CRY. I was so incredibly happy and proud that I made it and after I finished my family and I all celebrated together.
Participating was not just for fun, it also really teaches a lot about yourself. It learns you that you can push yourself way harder than you think you can and how to stay positive even when you are going through hell. It also lets you know how much perseverance you have.
Looking back on it, it was an amazing experience where I have got to learn myself a little better and feel like I have become a little stronger.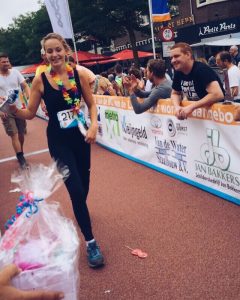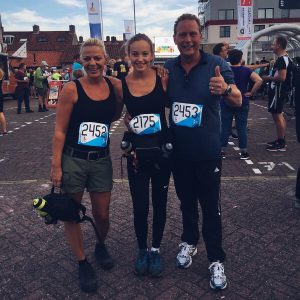 Lots of love,
Amber