Christmas gift ideas
Hey guys,
In today's post I'll give you some Christmas gift ideas. I am the worst at finding gifts for others but I've read magazines and now know some great and funny presents for underneath the Christmas tree.

Bacon Soap
The other day I came across this weird thing that made me laughing, knowing exactly who would love this. I mean, bacon?! As a soap?!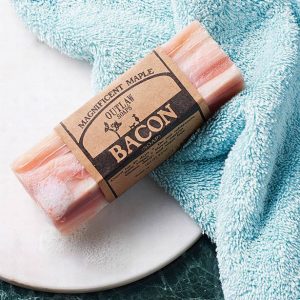 (http://www.mirror.co.uk)
Christmas decoration
Now of course giving this when christmas is almost over isn't the best idea. I have a mosquito net and 2 years ago I hung up some golden christmas balls and they've been there ever since. They look really cute though. I added some wooden glitter reindeers like ten minutes ago.
Shower stuff
You can't really go wrong with a nice scented shower gel or a body butter from The Body Shop. Everyone likes it and everyone uses it. Around the holidays stores have nice Christmas wrappings and nice gift sets. Just interrogate to find out what scent they like and voila, you have a Christmas gift.
Collages or picture books
Making a book with photo's in them is a really nice and personal gift for your friends and family. Sharing moments and remembering them, having a laugh when you think of what happened when you took that photo can really be an amazing idea to give as a gift.
Perfumes
A lot of people give each other perfumes with Christmas, it is a more expensive gift and really hard to find because what if the person doesn't like it? With this present you really need to know what they like, flowers or more candy like. Really strong manly perfume or a light scent.
Giftcards
You can of course also give gift cards. Do you know the feeling when you get a gift and you really don't like it but you can't say so because you don't want to sound ungrateful? With gift cards you can choose whatever you want so that is a really big pro, cons are that it is a little less personal.
Make up
If you're a girl and you're into make up, you can once again not go wrong. Getting a new highlighter or an amazing mascara is always. Make up brands have gift sets as well. For example the Too Faced Grande Hotel Cafe, a cute box filled with three coffee scented eyeshadow palettes. The perfect present!
These are some gift ideas I personally really like. I hope that they helped you 🙂
All the love,
Lauren